ABOUT OVOBEL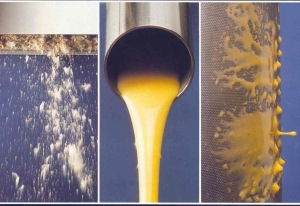 OVOBEL - COMPLETE EGG PROCESSING PLANT FROM A SINGLE SOURCE
OVOBEL has through the years grown to become the leading specialised supplier of unique egg processing equipment and turnkey projects worldwide.
OVOBEL can rely on more than 40 years of experience in this field.
OVOBEL supplies a complete range of equipment and machinery for the entire production process - from breaking and separating the egg to homogenizing, pasteurizing, storing, cooling or spray drying the product.
Egg processors demand only the best from their machinery on all levels. OVOBEL translates these demands into completely reliable, fully automated machines of simple construction.
OVOBEL is the exclusive supplier of Coenraadts egg breaking machines. These machines have been distributed worldwide by OVOBEL.
The machines sold by OVOBEL have already proved their value and efficiency. All the egg breaking machines supplied by OVOBEL in the past 40 years are still in use today. The simple construction of the machines makes cleaning and disinfecting easy. Furthermore it makes them highly reliable and being full automatic, the running and production costs are reduced to a minimum.
10 to 30% of all eggs are processed into egg products worldwide. This percentage is expected to increase further. If you are planning to process eggs, you'll need a reliable partner. In OVOBEL you will find the ideal partner to help you look for the best solutions for your company.
Do you want to know more about what OVOBEL can offer? Let us hear from you and we will be pleased to tell you more.