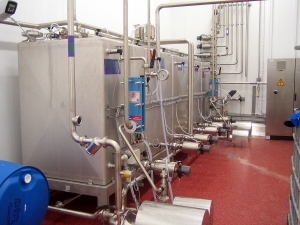 CIP EQUIPMENT FOR 'CLEANING IN PLACE'
A thorough and efficient cleaning is vital for the success of an egg product line. After production it is necessary to clean the equipment.
OVOBEL supplies automatic and semi-automatic CIP-systems with different programs for the cleaning (rinsing, cleaning, disinfection) of tanks, piping, coolers and tanks.
OVOBEL supplies three CIP systems: