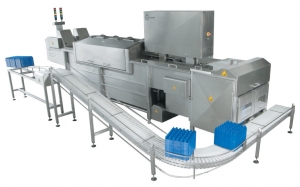 TRAY WASHER CTW6500 & CTW3250
The trays used in the egg processing industry can become extremely dirty and often stick to one another. This makes it more difficult to process unwashed trays automatically.
Suitable for most standard plastic trays, the Tray Washer CTW6500 is available in several versions. This machine features an automatic stacker which has no problem in coping with dirty, sticky trays.
It can have two separate lines, each with its own destacker, drive unit, stacker and centrifuge. The two lines can be operated entirely independently of one another. The control panel is at the input end of the machine and is easily accessible for the operator. All relevant information can be shown on the two LED displays.
Download the Tray Washer CTW6500 leaflet for further details.
There is also a Tray Washer available for 3.250 trays/hour. For further details download here the Tray Washer CTW3250 leaflet.

To see the machine in action, click here.